Thumper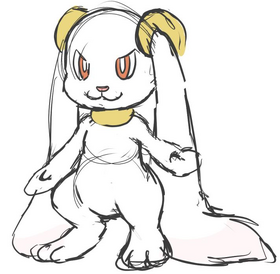 No Image Available
| | | |
| --- | --- | --- |
| Type | | |
| | |
| --- | --- |
| Species | Long Earred Pokémon |
| | |
| --- | --- |
| Experience | 600,000 at Lv. 100 |
| | | |
| --- | --- | --- |
| Egg Group | Humanshape | Ground |
Thumper is a Fighting-type Pokémon.
It evolves into Rumbit at Level 20.
Physiology
Edit
Gender Differences
Edit
Thumper is a female only species.
Special Abilities
Edit
It has very acute hearing.
Thumper are usually found in fields with tall grass and forests.
Game Data
Edit
Pokédex Entry
Edit
It drags its ear along on the ground. When they begin to get too dirty, she will find the nearest body of water and clean them thoroughly.
In-Game Sprite
Edit
None.
By Level-Up

Edit

| Level | Move | Type |
| --- | --- | --- |
| -- | Tackle | |
| 05 | Karate Chop | |
| 10 | Mind Reader | |
| 15 | Vacuum Wave | |
| 20 | Low Kick | |
| 23 | Fire Punch | |
| 23 | ThunderPunch | |
| 23 | Ice Punch | |
| 28 | Mind Reader | |
| 31 | Reversal | |
| 35 | Close Combat | |
| 39 | Agility | |
| 43 | Focus Blast | |




| TM | Move | Type |
| --- | --- | --- |
| 01 | Focus Punch | |
| 06 | Toxic | |
| 08 | Bulk Up | |
| 10 | Hidden Power | |
| 11 | Sunny Day | |
| 17 | Protect | |
| 18 | Rain Dance | |
| 21 | Frustration | |
| 23 | Iron Tail | |
| 27 | Return | |
| 28 | Dig | |
| 29 | Psychic | |
| 30 | Shadow Ball | |
| 31 | Brick Break | |
| 32 | Double Team | |
| 39 | Rock Tomb | |
| 42 | Facade | |
| 43 | Secret Power | |
| 44 | Rest | |
| 45 | Attract | |
| 52 | Focus Blast | |
| 56 | Fling | |
| 58 | Endure | |
| 60 | Drain Punch | |
| 66 | Payback | |
| 78 | Captivate | |
| 79 | Dark Pulse | |
| 80 | Rock Slide | |
| 82 | Sleep Talk | |
| 83 | Natural Gift | |
| 84 | Poison Jab | |
| 86 | Grass Knot | |
| 87 | Swagger | |
| 89 | U-Turn | |
| 90 | Substitute | |




By Move Tutor

Edit

Move
Type
Encore
Switcheroo
Fire Punch
Ice Punch
ThunderPunch
Meditate
Seismic Toss
Double-Edge
Counter
Superpower
Extremespeed
Headbutt
Zen Headbutt
Iron Head
Consult Move Tutor page for more info.




By Egg Moves

Edit

| Move | Type |
| --- | --- |
| Aura Sphere | |
| Future Sight | |
| Cross Chop | |
| Foresight | |
| Assist | |
| Jump Kick | |
| Fake Out | |
| Detect | |
| Flame Wheel | |
| Feint | |
| Punishment | |