Spyderno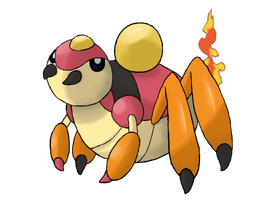 [Art by Aonik]
| | | |
| --- | --- | --- |
| Type | | |
| | |
| --- | --- |
| Species | Tunneling Pokémon |
| | |
| --- | --- |
| Experience | 1,059,860 at Lv. 100 |
Spyderno is a dual-type Fire/Bug-type Pokémon.
It evolves from Aracnire at Level 16. It evolves into Scorchula at Level 32.
Physiology
Edit
This is a description.
Gender Differences
Edit
None.
Special Abilities
Edit
It is excellent at digging tunnels. It can use a wide range of Fire-, Bug-, Ground- and Electric-type attacks. It also has a special connection to the weather.
It is obsessed with building as intricate of a tunnel system as possible. If left alone, it can build a maze of tunnels on it can navigate. Spyderno sets up numerous traps to catch any potential Meerkat or Ant that may try to take over its home. It will leave its tunnel system to capture prey.
Spyderno lives in tunnels found in temperate forests.
Game Data
Edit
Pokédex Entry
Edit
It is more likely to leave its tunnel system then ARACNIRE is. It will build webs to ensare prey in then store their catch deep in their tunnels.
In-Game Sprite
Edit
None.
By Level-Up

Edit

| Level | Move | Type |
| --- | --- | --- |
| -- | Poison Sting | |
| -- | String Shot | |
| 06 | Ember | |
| 11 | Bug Bite | |
| 14 | Dig | |
| 20 | Spider Web | |
| 24 | Fire Spin | |
| 29 | Signal Beam | |
| 33 | Power Gem | |
| 37 | Fire Fang | |
| 41 | Heat Wave | |
| 44 | Morning Sun | |
| 49 | Sunny Day | |




| TM | Move | Type |
| --- | --- | --- |
| 06 | Toxic | |
| 07 | Hail | |
| 10 | Hidden Power | |
| 11 | Sunny Day | |
| 17 | Protect | |
| 18 | Rain Dance | |
| 19 | Giga Drain | |
| 21 | Frustration | |
| 22 | Solarbeam | |
| 24 | Thunderbolt | |
| 25 | Thunder | |
| 27 | Return | |
| 28 | Dig | |
| 32 | Double Team | |
| 34 | Shock Wave | |
| 35 | Flamethrower | |
| 36 | Sludge Bomb | |
| 37 | Sandstorm | |
| 38 | Fire Blast | |
| 42 | Facade | |
| 43 | Secret Power | |
| 44 | Rest | |
| 45 | Attract | |
| 50 | Overheat | |
| 57 | Charge Beam | |
| 58 | Endure | |
| 61 | Will-o-Wisp | |
| 70 | Flash | |
| 73 | Thunder Wave | |
| 78 | Captivate | |
| 81 | X-Scissor | |
| 82 | Sleep Talk | |
| 83 | Natural Gift | |
| 84 | Poison Jab | |
| 87 | Swagger | |
| 90 | Substitute | |
| 91 | Flash Cannon | |




By Move Tutor

Edit

Move
Type
Encore
Switcheroo
Sucker Punch
Heat Wave
Earth Power
Double-Edge
Swift
Weather Ball
Signal Beam
Blast Burn
Sacred Fire
Consult Move Tutor page for more info.




By Egg Moves

Edit

| Move | Type |
| --- | --- |
| Night Shade | |
| Wrap | |
| Constrict | |
| Spider Web | |
| Agility | |
| Extrasensory | |
| Baton Pass | |
| Bide | |
| Tail Glow | |
| Feint | |