Ribitot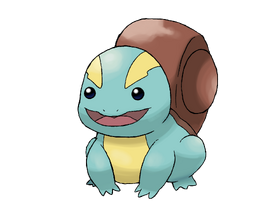 Sketch by Chad / Art by Aonik
| | | |
| --- | --- | --- |
| Type | | |
| | |
| --- | --- |
| Species | Shellfrog Pokémon |
| | |
| --- | --- |
| Experience | 1,059,860 at Lv. 100 |
Ribitot is a Water-type Pokémon. It is one of the three starters of the Hadysium Region.
It evolves into Amphibine at Level 16.
Physiology
Edit
Ribitot is a small frog-like Pokémon with a large snail shell on its back. It's skin is a tealish-blue and semi-transparent. It's shell is composed of a strange metallic material that allows it to conduct electricity. However, the organs in its body that produce electricity are underdeveloped so it has a difficult time using Electric attacks. Its eyes are small and black. Its body is composed mostly of water.
Gender Differences
Edit
Male Ribitot have white shells. Female Ribitot have tan shells.
Special Abilities
Edit
It can live both on land and in the water. Its body is perfect for conducting electricity. It can aptly use its tongue in combat.
Though rare in the wild, Ribitot tend to live in small colonies with other amphibious Pokémon. They will croak in harmony with one another once the sun goes down.
They live in secluded swamplands away from human developments.
Game Data
Edit
Pokédex Entry
Edit
It often sits on a lilypad motionless, waiting for its prey to fly by. It will then wrap its prey with its tongue and shock it with electricity to incapacitate it.
In-Game Sprite
Edit
None.
By Level-Up

Edit

| Level | Move | Type |
| --- | --- | --- |
| -- | Tackle | |
| -- | Growl | |
| 06 | Bubble | |
| 10 | Mud Bomb | |
| 14 | Charge | |
| 19 | Aqua Jet | |
| 23 | Iron Defense | |
| 27 | Bounce | |
| 32 | Dive | |
| 37 | Detect | |
| 41 | Hydro Pump | |
| 46 | Rain Dance | |
| 50 | Power Whip | |




| TM | Move | Type |
| --- | --- | --- |
| 03 | Water Pulse | |
| 06 | Toxic | |
| 07 | Hail | |
| 09 | Bullet Seed | |
| 10 | Hidden Power | |
| 13 | Ice Beam | |
| 14 | Blizzard | |
| 17 | Protect | |
| 18 | Rain Dance | |
| 21 | Frustration | |
| 27 | Return | |
| 28 | Dig | |
| 32 | Double Team | |
| 34 | Shock Wave | |
| 36 | Sludge Bomb | |
| 42 | Facade | |
| 43 | Secret Power | |
| 44 | Rest | |
| 45 | Attract | |
| 57 | Charge Beam | |
| 58 | Endure | |
| 67 | Recycle | |
| 70 | Flash | |
| 78 | Captivate | |
| 82 | Sleep Talk | |
| 83 | Natural Gift | |
| 87 | Swagger | |
| 90 | Substitute | |




By Move Tutor

Edit

Move
Type
Encore
Fake Tears
Double-Edge
Counter
Superpower
Headbutt
Zen Headbutt
Surf
Waterfall
Hydro Cannon
Consult Move Tutor page for more info.




By Egg Moves

Edit

| Move | Type |
| --- | --- |
| Whirlpool | |
| Confuse Ray | |
| Aqua Ring | |
| Psychic | |
| Quick Attack | |
| Mud Shot | |
| Spark | |
| Curse | |